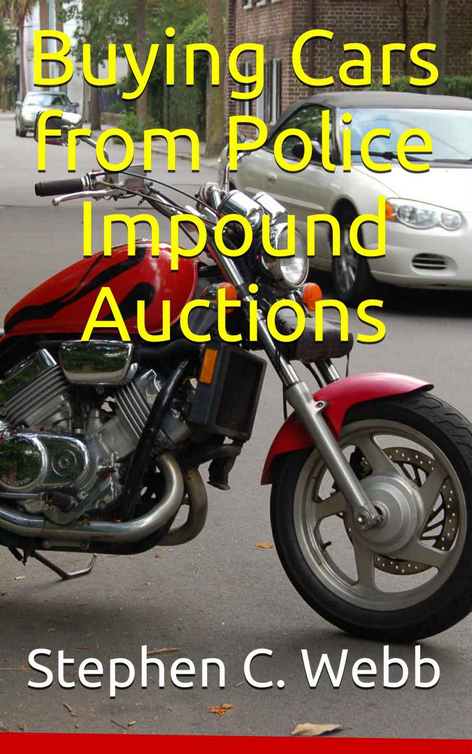 I have purchased 90% of my used car lot inventory from Police Impound Auctions for the past ten years. The soon to be published book that will be on Amazon will help others save 60% 70% 80% on their next used car or truck purchase. The vehicles that are sold at these auctions are all sold "AS IS" and cash or credit car only The complete book will be available on Amazon for a low price of 4.98 with a money back guarantee if you are not 100% satisfied.


The book will contain the following information and tools that will prevent you from making some of the mistakes I have made and hopefully will save you time money and help you find the vehicle of your dreams at an affordable price. I will gladly place you on my mailing list for this book simply send me an email.
HIGHLIGHTS OF THE BOOK
WHY BUY A VEHICLE FROM POLICE AUCTIONS?
WHO CAN SHOP AT POLICE AUCTIONS?
LISTS OF ONLINE POLICE AUCTIONS
HOW TO FIND POLICE AUCTIONS
TYPES OF VEHICLES FOUND AT POLICE AUCTIONS
HOW TO TRANSFER A POLICE IMPOUND VEHICLE INTO YOUR NAME
The book will have my personal email in which you are welcome so ask me questions to assist you in the purchase of your next motor vehicle.
The Author
Stephen C. Webb
stevescars.com@gmail.com
Amazon Auto Parts